Looking for a gift for an artist in your life? Instead of giving them the wrong kind of paint they'll never use or another useless gift, consider these beautiful artist palette themed gifts that will be sure to put a smile on their faces!
These gifts have all been beautifully designed and created, and are definitely not items you would find in a regular shopping mall or big box store.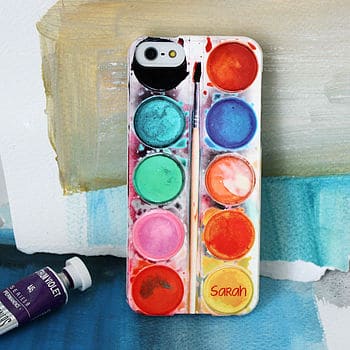 Paint Set Phone Case for iPhone or Samsung.
If you know someone who is an avid artist and needs a new case for their smartphone, give them this practical yet beautiful phone case that looks a lot like an actual paint palette!
The phone case is divided into several paint blocks, very similar to a box of watercolors an artist would use. With its realistic appearance, it could fool the unsuspecting person into believing that it is an actual pain palette!
It is bright, cheerful and very unique. What's more, you can personalize it by adding your gift recipient's name to the bottom right-hand corner.
This colorful phone case is great if you want something to brighten up a boring and generic phone that won't cost a fortune.
The phone case comes in a wide range of sizes to fit many iPhone and Samsung models.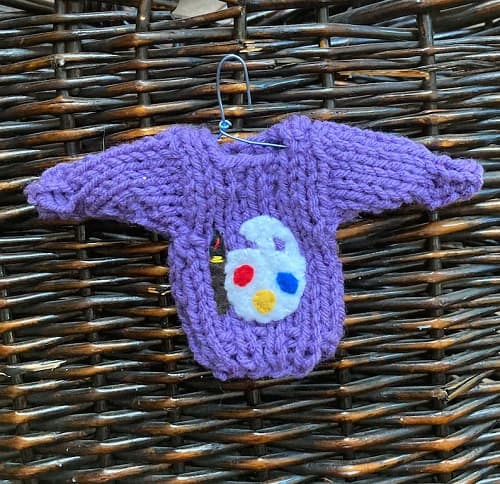 Mini Sweater Ornament.

Looking for the perfect present for your art teacher, artistic friend or painter family member?
Look no further than this tiny, knitted sweater ornament that boasts a paint palette on the front.
It is small, quirky, and you'll want to have it with you at all times!
It comes equipped with a hook so that the gift recipient can hang it on a bag, Christmas tree, plant, or anything else that they want to brighten up.
This is no ordinary ornament and is not mass-produced. The creator hand knits each ornament, decorates them with detailed, felt appliqués and then hand creates the tiny hanger.
It measures only 6 inches wide and is 3 inches tall and is made from the best quality yarn.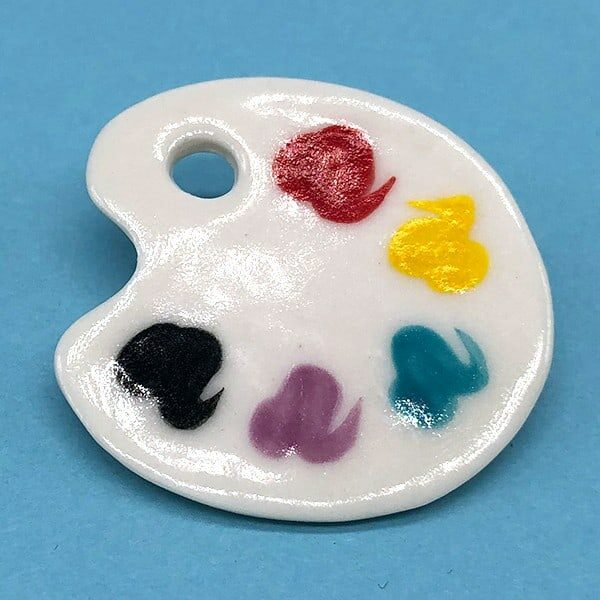 Fosse Beads Studio Collection Large Artist's Palette Brooch.
This exquisite, handmade porcelain and silver brooch looks incredibly realistic and will match any outfit perfectly.
It features a white palette with multi-colored dabs of paint that any artist will be proud to wear.
The backing is sterling silver, which means that it has been made to last and really good quality.
Whether your gift recipient wears it on their winter coat, to brighten up a sweater or on a scarf, they will be sure to turn heads wherever they go!
The brooch can also be considered as a special piece of jewelry and it comes with a pretty gift box so you don't have to worry about how you present it to that special person in your life.
It is certainly a gift that will be treasured for many years to come.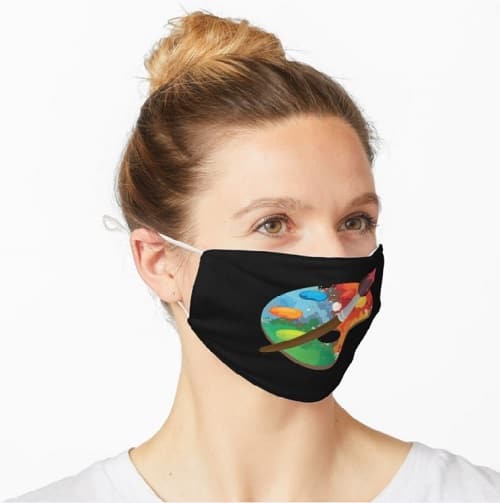 Paint Palette Reusable Face Mask.

The Covid-19 pandemic has meant the normalization of mask wearing.
Reusable masks are a great option because not only are they great for the environment, but they can be personalized to reflect your individual personality.
This black, reusable face mask featuring a beautifully designed artist's palette is perfect for any artist.
It is also adjustable so it doesn't matter what size or shape face you have because it will fit you perfectly!
You can choose between a 2 or 3-layer mask and there are even masks available for kids.
This mask has been created from the very high quality fabric, and the inner layers provide added protection. They can be washed countless times and you may want to consider buying a few masks so that you always have one available!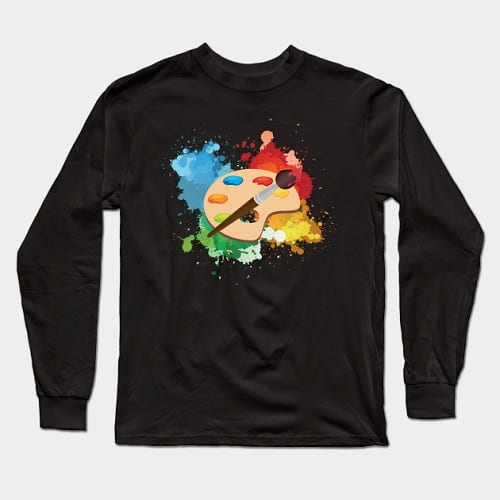 Painter Long Sleeve T-Shirt.
Another excellent idea for a gift for an artist is this comfortable and beautiful long-sleeved t-shirt.
The front of the shirt is emblazoned with a delightful artist's paint palette in bright hues.
It comes in sizes small to 5 x extra large, so there is a size for everyone.
The background of the t-shirt is also available in many different colors: black, cardinal, maroon, yellow, blue, light blue, purple, heather, green and red.